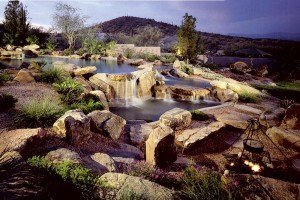 Water features are a beautiful and enjoyable addition to any swimming pool. Fountains, jets, and falls can be easily included in your pool design to completely customize and complement the look of your pool. If you're getting ready to install a new pool on your property, TMC Custom Pools can help you determine which type of water feature is best to suit your preferences and design ideas.
Fountains
Recirculating fountains are a popular addition to backyard swimming pool designs for many reasons. A fountain adds both visual and an audio characteristics to your pool, creating a soothing and enjoyable backyard environment. Fountains are a simple way to beautify your pool and the surrounding area. A fountain also serves as a focal point, drawing the eye to help beautify your pool and its surroundings.
Falls
Waterfalls are available in a variety of styles, from industrial-style falls and glass-like sheets of water to small spillways and organic designs that send water cascading down a series of stones or steps into your pool. Like fountains, waterfalls provide soothing background noise that you can enjoy from inside or outside your home. Falls also aid with pool circulation; spillways are frequently used to connect spas and wading pools with a larger main swimming pool.
Jets
Jets are a simple yet eye-catching feature that has become increasingly popular in recent years. These modern features blend in with your pool deck when not in use, but create customized and adjustable streams of water when desired to add flair and personality to your pool. Jets can be fitted with various nozzles and LED lighting options, turning your pool into the perfect place for entertaining and fun for your family and friends.
At TMC Custom Pools and Renovations, our experienced staff can help you design, install, and maintain the perfect pool for your property. We invite you to call us today @ 1.866.658.7665 for an estimate or check us out online, where you can explore our gallery or learn more about the pool installation process.