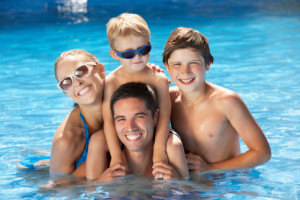 If you are seeking a fun and relaxing way to get in shape, you may want to consider swimming. With your very own backyard pool, you will be able to swim laps, perform aquatic aerobic exercise, and engage in a variety of other activities. A custom pool builder can help you create a backyard pool that is perfectly suited for your exercise requirements. Here is an overview of some of the great health benefits that swimming has to offer you.
Increased Muscle Strength
When you swim laps on a regular basis, you will start to see increased muscle strength and improved tone throughout your body. Muscle tone and fitness is a great indicator of a person's overall health. Unlike running and other exercises that target only specific areas of the body, swimming can help you achieve full body fitness.
Better Flexibility
Swimming can also help you become more flexible for all of your daily activities. As you swim, your key joints, such as your hips, shoulders, and knees, will all become gently stretched out. Flexibility can help you avoid injuries as you age. In addition, the flexibility that you achieve from swimming can also support your overall workout routine.
Improved Cardiovascular Health
Heart disease is a serious health condition that affects both men and women. In order to help prevent heart disease, it is critical to make sure that you promote good cardiovascular health. When you swim, you will raise your heart rate, improve your breathing, and generally work to improve the overall health of your cardiovascular system.
At TMC Custom Pools and Renovations, our team can build you the perfect custom swimming pool for your fitness and recreational needs. As leading pool builders in Tucson, Phoenix, and Casa Grande, we have the knowledge and experience needed to build you a beautiful custom pool for your home. Give us a call at (520) 797-0168 to schedule a free consultation for your new pool installation.