Take a Look at the Differences Between Pool Renovation and Pool Building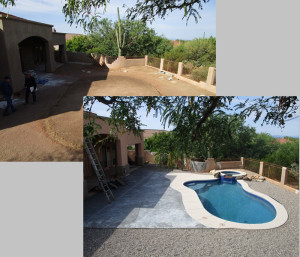 When deciding whether to build a brand-new pool or renovate a current design, there are a few differences to keep in mind. Building a new swimming pool allows homeowners to create their dream pool. However, homeowners renovating a current design may not require the same level of demolition and backyard upheaval than building a new swimming pool. Read on for some key differences between pool renovation and pool building.
Expenses
One of the biggest differences between pool renovation and pool building may be related to the cost. Often, a pool renovation will be less expensive than building a brand-new pool, but this may change depending on how extensive the renovation is. A pool renovation may be more economical, because pool builders can utilize materials and plumbing connections from the previous pool installation. Always speak with the pool builders and designers about the best course of action to save expenses.
Demolition
Demolition can change significantly between a pool renovation and a pool building. When a pool has already been built, it may not require an extensive demolition process during renovation. If the pool shape will not change much, then demolition may only be required to update old decking and old equipment. When building a completely new pool, however, complete demolition is required to make room for all of the systems needed in a new pool design, though there will be a higher potential for customization with a brand new pool.
Additions
After a pool has been built, it is difficult to add features, such as a waterfall or new pool equipment. A pool renovation gives homeowners the opportunity to add the features they have longed for, though the options may be limited by your current pool design. Working with your pool contractors will inform you of the possibilities available for your backyard additions.
TMC Custom Pools and Renovations specializes in both new designs and renovations throughout Arizona. We service locations from Tucson to Phoenix, including our Casa Grande location at (520) 723-7946. For further information, call our Tucson location at (520) 797-0168 or our Phoenix location at (480) 558-7665.