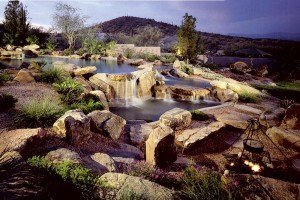 Designing a pool can be an exciting and fulfilling task as long as you start planning in advance. You will need to evaluate your needs and consider how to make your ideal pool work within your space, so it helps to think about different shapes. You can also add water features, lighting, and other extras to make the most of your pool. Here is a brief overview of the simple steps for designing a pool.
Compare Your Needs and Your Space
When you initially decide that you would like to design a swimming pool, think about the factors that drive that decision. Do you want a large pool for the whole family to enjoy, or would you rather install a smaller pool to give your property an aesthetic boost? Think about the way you plan on using your pool as well as the space you have to work with when entering the design phase.
Consider Different Pool Shapes
The way you plan on using your pool can also influence the shape you choose. From sleek, modern pools with sharp corners to freeform basins, there are all kinds of shapes to choose from. If you plan on exercising in your pool, you might want an L-shaped pool with a deep end so you can swim laps. On the other hand, a circular pool may be more conducive to a family game of pool volleyball.
Add Water Features and Lighting
If you want to blow your neighbors out of the water, consider what you can do with extra features. Waterfalls and fountains as well as elaborate lighting setups can allow you to realize your pool design's full aesthetic potential.
Would you like some help designing your new swimming pool? Feel free to call TMC Custom Pools and Renovations at (520) 355-4877. We are happy to help you bring your dream pool to life, and it all starts with a design. You can learn much more about our services by visiting our website today.