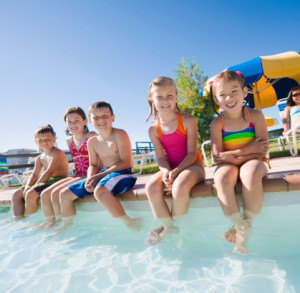 Adding a swimming pool to your home holds numerous benefits for you and your family. Swimming pools offer a versatile setting for exercise and fun, while also adding curb appeal that will complement the existing look of your backyard. Regardless of whether you plan to swim every day or simply enjoy the appealing view of an integrated pool and landscaping system, constructing a backyard pool can help you reap many rewards.
Fun and Available Exercise
It seems that every day, new reports are released outlining the benefits of physical activity. Swimming is an excellent cardiovascular and strength-building exercise that is easy on the joins and fun for the entire family. Owning a swimming pool thus offers you and your family the benefits of a fun and convenient place to exercise every day to build fitness and enjoy better health. Adding an integrated swimming pool and spa offers even more health benefits, as regular spa usage is associated with reduced mental stress and the improvement of many chronic pain conditions.
A More Beautiful and Valuable Home
Building a swimming pool in your backyard adds both beauty and value to your property. A swimming pool design that meshes well with your landscaping creates a more appealing backyard space and can even improve the functionality of your yard when you add a patio or deck for relaxation, socialization, and other outdoor activities. Swimming pools are one of the easiest and most enjoyable ways to increase the overall value of your property, ensuring that it will command a higher price if you ever decide to sell your home in the future.

If you'd like to find out more about the many rewards of owning a swimming pool in Arizona, call TMC Custom Pools & Renovations to discuss your design ideas with our swimming pool experts. We can help you install, maintain, and even refresh a backyard pool to improve the value and versatility of your home. You can also find out more about our range of pool services when you click through our comprehensive website.