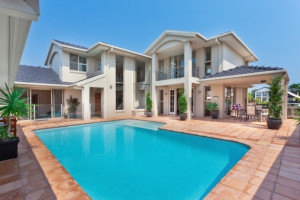 A swimming pool can have a massive impact on many aspects of your home; it offers aesthetic appeal, may increase the value of your property, and can give the family a fun and relaxing way to cool down during the hotter days of the year. Continue reading for some considerations to make as you decide where to put your backyard pool.
Size of Your Pool
Before you decide where to put your swimming pool, it helps to think about how big you would like it to be. The maximum dimensions of your pool will depend on the size of your property, and the ideal location for your pool may depend on its size. If you have a great deal of space to work with or a small pool to install, you will have plenty of options in terms of location. You can place a large pool away from the house in order to create a new destination, but a smaller pool might warrant a deck that comes right off of your house.
Layout of Your Yard
You should also consider the layout of your yard and shape of your pool when thinking about placement options. Swimming pools often make for exceptional aesthetic additions alongside outdoor kitchens and living spaces. Think about how you can arrange each aspect of your yard without cluttering up your space.
Landscaping Elements
Although landscaping elements like beautiful trees and decorative shrubs can enhance the cosmetics of your pool, they might create problems as well; the leaves that fall off the trees and the insects that live in your bushes might find their way into your water, so consider how close to each other you place these items.
If you are still having trouble deciding where to put your swimming pool, contact TMC Custom Pools and Renovations or visit our website. Our team is dedicated to quality pool installations and renovations. Feel free to give us a call at (520) 355-4877 for more details about our services.