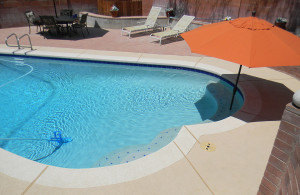 Although Arizona is well known for its long, warm summers, the winter season is typically too cold for continued swimming pool use. When you're ready to close your pool for the season, it's important to take the proper steps to protect your pool until you are ready to enjoy it once more. Your pool service can provide additional tips and advice to ensure your pool gets the care it needs during the off season.
Check and Protect Exposed Plumbing
During the winter, overnight temperatures in Arizona can sometimes fall below freezing. This can put any exposed pool plumbing at risk for frozen pipes, which can lead to cracks and leaks. Visually inspect any exposed pool plumbing regularly, and wrap it in a blanket or towel if the temperature is expected to reach freezing or below. If you think your plumbing may be damaged, contact your pool service promptly for an evaluation and repairs.
Clean Your Pool or Cover
If you opt to leave your pool uncovered, you'll need to continue cleaning your pool throughout the winter to remove debris. While a little dirt and debris on a pool cover isn't an issue, significant buildup on the cover can allow debris to enter the water and affect the cleanliness of your pool. Cleaning your pool cover is simple—all you'll need to do is hose it down periodically—and will also help your pool and outdoor living spaces look better throughout the winter season. An enzymatic chemical solution can be used to break down any organic debris that may have entered your pool to keep the water and the basin clean throughout the winter, regardless of whether you cover your pool or not.
Do you have questions about pool care in Arizona? Please call TMC Custom Pools & Renovations to find out more about how we can help you save time, money, and stress with our professional pool care services. You can also find the answers to some of your most frequently asked questions and additional information about pool care and safety when you visit us online.