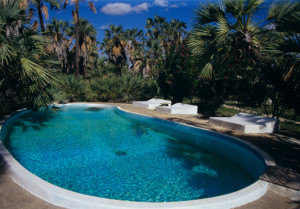 Nothing says luxury like a backyard oasis, and your water features can play an important role in your design of this space. The right type of pool waterfall design can create the perfect atmosphere for your pool area and improve the aesthetics of your backyard as a whole. Read on for pool waterfall design ideas for a backyard oasis.
Neon Lights
A new waterfall for your pool can substantially improve its aesthetic appeal, but why stop there? You can combine this water feature with neon lights to enjoy dazzling results. This type of combination helps to create an interesting and cosmetically appealing environment for you and your family to enjoy. Your lights will interact with the waterfall to present a calming and luxurious exhibit that you can enjoy all night long.
Natural Rock
Today's swimming pools come in all kinds of different shapes, sizes, and designs. If you have decided to embrace a natural design, a waterfall can make for an excellent addition. A natural rock waterfall highlights the organic elements of your pool design and operates as a seamless transition between your pool area and the rest of your backyard. In this case the natural rock may be just as important to your backyard design as the water flowing from the waterfall.
Hot Tub to Pool
Your backyard oasis needs a pool, but it could very well include a hot tub too. If your hot tub is attached to your pool, consider installing a waterfall that drops water from the hot tub down into the pool. This creates one cohesive destination rather than two separate basins, and it does so in a soothing manner.
If you are interested in experimenting with pool waterfall design ideas for your backyard oasis, feel free to contact TMC Custom Pools and Renovations or visit our website. In addition to water features, we also offer pool renovations and installations. You can learn much more about our services by calling us at (520) 797-0168.