Part of the excitement of owning a new pool is the impact its design can have on your property. Today's swimming pools can be as simple or elaborate as you wish, and your pool contractor can help you bring your dream pool to life. Here is a look at a few pool design trends to embrace in 2016.
Vanishing Edges
If you are looking for a modern swimming pool, it doesn't get much more contemporary than vanishing edges. These pools make for picture perfect scenery without obstructing your view of your landscape. While they were once reserved for upscale resorts, more and more homeowners are having these types of pools installed on their properties.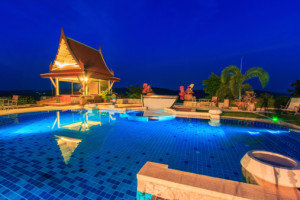 Pool Lights
There's something mesmerizing about bright and bold lights, making them a great option for your pool design. There are plenty of different types of lights to choose from, like halogen, LED, or fiber optics. Creative pool lighting can turn your backyard into a destination of its own, setting the stage for endless nighttime swimming. Try coordinating a lighting scheme between your pool and your spa area for a cohesive design.
Water Features
Pool design isn't limited to the way it looks; it can also appeal to other senses. If you want your pool area to exude peacefulness and luxury, consider fountains, waterfalls, or other water features. The gentle sound of running water creates a relaxing atmosphere that you can enjoy with your friends and family. As a bonus, these water features also look great.
If you are ready to embrace these popular pool design trends, please do not hesitate to call TMC Custom Pools and Renovations at (520) 797-0168. Our team of pool professionals specializes in new installations, renovations, and pool maintenance. Feel free to visit our website if you would like to learn more about our services.