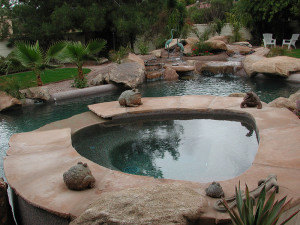 Your choice of pool deck material can play a significant role in the overall aesthetics of your pool. With many deck surfaces available, it's important to choose a decking that meets both your aesthetic and functional needs. Some of the most popular pool deck surfaces include Colored salt finish concrete, Acrylic, Natural Stone, and Pavers—TMC Custom Pools and Renovations will work with you to find a material that fits your budget, your pool's style, and any additional preferences you may have.
Concrete
Colored salt finish concrete is one of the most common pool deck surfaces; this cost-effective option is easy to install and care for, offering long-term durability with little maintenance. There are many ways to spice up this traditional pool decking option—stamped and stained concrete are also excellent ways to personalize your pool deck.
Stone or Travertine Tiles
Tiles are another popular pool deck material, thanks to their longevity and ease of maintenance. The costs of these options vary by style and material, allowing you to find the perfect pool deck solution for your budget and yard. Stone pool decks are available in both geometric shapes and freeform, natural flagstone styles, while Travertine can add as little or as much flair as you'd like to your pool deck.
Acrylic
Acrylic is a beautiful choice that can add style and elegance to your pool Deck. This material ranges from a simple lace pattern to high end chiseled granite look. Acrylic requires very little maintenance, but delivers unparalleled aesthetics and a unique look that may be perfect for your yard. Acrylic is also cooler than concrete and tile, making an acrylic deck a great place for families to sit or play.
TMC Custom Pools and Renovations offers pool remodels and installation throughout the Tucson and Phoenix area. We can help you customize your pool with water features, pool decking, and more to transform your yard into the perfect space for entertainment or relaxation. You can click through our website for more details about our services, or call us today @1.866.658.7665 to get started.