A Look at the Pool Renovation Process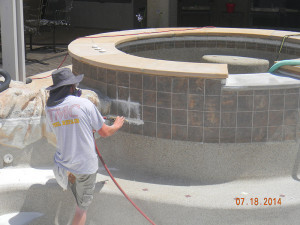 If you have started to notice that your current pool appears old, outdated, or damaged, it may be time to consider a pool renovation project. During a pool renovation project, an experienced contractor will transform your aging pool into a beautiful and functional new space. Before you commit to your pool renovation, you will want to gather information about what you can expect during this service. Here is an overview of what happens during a pool renovation.
Initial Consultation
The initial consultation is the first step of any pool renovation. During this phase of the renovation project, you will meet with a project manager at your property. Your project manager will carefully inspect your existing pool and suggest any necessary repairs and renovations. During the consultation, you will also receive a quote for your renovation services.
Drain and Demolish
After you have met with the project manager and created renovation plans, you will be ready to drain and demolish your existing pool. If your pool is going to receive major renovations, it may be necessary to demolish and remove all existing pool materials. Careful demolition will allow contractors to safely update your plumbing and structural components.
Coat and Fill
Once the demolition phase is complete, your contractor will start on the final phase of the remodel. Your pool contractor will use the materials that you have chosen to coat your pool deck and fill the interior surfaces of your pool. After these materials have set, you will be ready to fill your pool with water and start enjoying your new space.
For additional information about the pool renovation process, contact TMC Custom Pools and Spas. Our team of pool renovation experts provide services to homes throughout the Tucson, Phoenix, and Casa Grande areas, and we can help you transform your old pool into a brand new design. For more information about the advantages of working with our pool design company, call our Tucson location at (520) 797-0168.