A Look at Arizona's Popular Pool Designs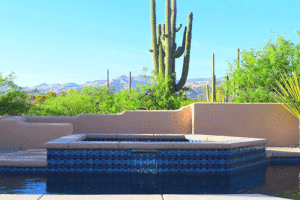 In Arizona, homeowners can swim almost year-round, especially if they have a heated pool. There are several pool designs used in Arizona—such as infinity pools and lounging pools—that homeowners can choose from. Continue reading to see some of Arizona's popular pool designs.
Lounging Pools
One of the best ways to enjoy the Arizona sun is by lounging in a beautiful, built-in pool. Through a beach-style pool entry or a built-in ledge, you can create lounging space that will keep you cool in the hot desert sun. Lounging ledges can be included in any type of pool design, whether it is kidney shaped, oval, or natural.
Spa Combo Pools
For Arizona's cool winters and mild spring nights, pool designers often install pool and spa combinations. The pool and spa can be separate installations, or they can be attached in a combo design. Often, a spa will be installed on a higher elevation so water can flow into the swimming pool and through a shared filtration system.
Infinity Pools
Infinity pools—also known as zero-edge or disappearing edge pools—are a popular pool design, especially for yards with great views. Infinity pools are built with one wall higher than the opposite wall, which is low enough to allow flowing water out of the pool, creating a "disappearing wall." The extra water falls into a basin that is filtered back into the pool. Infinity pools are best used in yards with an unhindered view that homeowners and guests can enjoy.
Lap Pools
Lap pools present homeowners with a great opportunity to enjoy a pool and exercise at the same time. Lap pools are generally shallow and narrow, so they can fit in several types of Arizona backyards.
Work with TMC Custom Pools and Renovations to design the perfect pool shape and style in Arizona. We have worked with many new and renovated pool designs, and we can help homeowners find the best pool for their yards. Please call our Tucson office at (520) 797-0168 or visit us online to see our different pool designs.