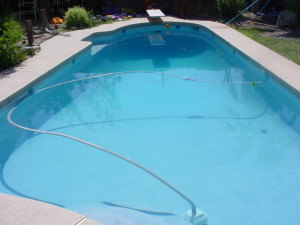 Building a new pool is an exiting project for any family. While your new pool will be in pristine condition after it is first installed, you will need to perform regular maintenance procedures in order to keep your pool in proper condition over the years. With help from a pool maintenance professional, you can protect your pool deck and materials from wear and tear over time. Let's explore some essential tips for taking care of your backyard pool.
Check Your Pool Chemicals
One of the most critical steps of taking care of your pool is to check and adjust your pool chemicals once a week. Pool chemicals are designed to keep your pool water safe, clean, and ready for use. If neglect to adjust your pool chemicals at routine intervals, you could run the risk of developing algae and other issues.
Use a Pool Skimmer
When leaves, branches, and other forms of debris are left to float in your pool water, they can cause serious damage to your pool. In order to protect your pool against damage from falling debris, you will want to use a pool skimmer to clean your water. Skimming your pool is a simple procedure that will go a long ways towards protecting its durability.
Install a Pool Cover
In order to prevent damage to your pool when it is not in use, you may want to consider installing a pool cover. Pool safety covers are designed to protect pools from damage, while also keeping children and pets safe when they are around the pool.
If you have further questions about how to properly take care of your pool, get in touch with TMC Custom Pools and Renovations. For the past 25 years, we have provided Tucson, Phoenix and Casa Grande with terrific pool installation and renovation services. To learn more about why you should trust us with your pool maintenance, give us a call at (520) 797-0168.