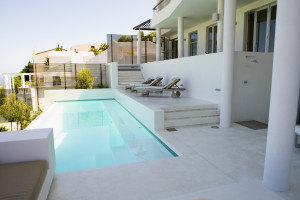 Your swimming pool should complement the look of your home and yard, while catering to your functional preferences as well. Whether you want a pool for relaxing, exercise, or family fun, there are several factors to consider during the design phase of your backyard pool. Your experienced pool contractors can provide the advice, tips, and design tools you need to create the perfect pool for your home and lifestyle.
Size and Shape
The size and shape of your pool are some of the first characteristics you'll need to choose. Consider the size and shape of your property, as well as how much yard or patio space you'd like left over after pool construction has been completed. Not only should your pool fit in the space available, it should also be laid out in a way that fits your needs. If you want to use your pool for exercise, a longer basin for lap swimming may be preferable to a more compact or rounded shape, which is better for relaxing and socializing. Adding a spa will also impact the ultimate size and shape of your pool as well, so keep these factors in mind during this phase of development.
Lighting and Features
Your pool should be a safe and fun place for the entire family. Elements such as lighting, water features, sound systems, and built-in steps or seats can help you create the right pool environment for your needs. Ample lighting will improve the look of your pool at night, while also adding safety after dark. Incorporating design elements such as fountains, jets, and waterfalls add extra appeal and value to your investment to create an enjoyable outdoor living space, both in and out of the water.

Are you ready to design the perfect swimming pool for your Arizona home? At TMC Custom Pools & Renovations, we will work with you to build exactly the right swimming pool for your property. We also offer services that include weekly pool care and swimming pool renovations—you can visit us online or call us today for a free estimate.