Enjoy the Many Benefits of Owning a Pool and Spa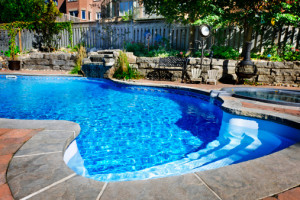 If you are seeking a home renovation project that will enhance your property value, while also providing you with fun in the sun, you may want to consider a new pool and spa installation. When you place a new pool and spa system on your property, your backyard will become a welcoming oasis for family and friends. Here is a quick look at the many benefits that are associated with pool and spa ownership.
Better Health
When you are the proud owner of a pool and spa, you will be able to take advantage of the many health benefits of swimming. Swimming laps in your pool can help you lose weight, increase your cardiovascular endurance, and improve your muscle tone. Athletes who have injuries can also recover more quickly when they spend time in a pool or spa environment.
Improved Relaxation
As the happy owner of a brand new pool and spa, you may also find that you are more relaxed when you are at home. When you kick back on the deck of your very own pool, you are sure to feel your stress melt away almost immediately. Your pool can also help you relax by having friends and family over for pool parties and barbecues.
Increased Property Value
Finally, new pool and spa installation will help to increase the property value of your home. If you decide to sell your home at a future date, you will be able to get a better price for your property when you can offer a beautifully maintained pool and spa.
For additional information about the benefits of owning your own swimming pool, contact TMC Custom Pools and Spas. We offer custom pool installations in Tucson, Phoenix, and Casa Grande, and our team will be able to help you design and build the pool of your dreams. Call our Casa Grande location at (520) 723-7946 to learn more about our pool installation process.