Different Ways to Sanitize Your Swimming Pool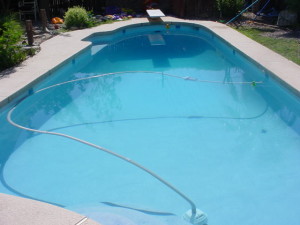 Keeping your pool water clean and sanitary will provide a safe and enjoyable swimming experience for your family and friends. While you may be familiar with the sanitization benefits of chlorine, it is a great idea to gather information about your other swimming pool sanitizing options. From saline to bromine, there are many alternative chemicals that you can use to sanitize your pool. Here is an overview of some of the most popular swimming pool sanitization methods.
Chlorine Tablets
Chlorine has been a standard swimming pool chemical for many decades. Pool owners choose chlorine, because it is effective at sanitizing the water, oxidizing organic debris, and deterring the growth of algae and other unsightly substances.
Bromine Tablets
Bromine is a terrific pool chemical alternative for those persons who have chlorine allergies. In the event that you find that you have a strong reaction to chlorine in pool water, it may be time to talk to your pool supplier about the possibility of making the switch to bromine. It is important to note the bromine tablets typically need to be supplemented with a small amount of chlorine.
Ozone Gas
For those homeowners who want to use as few chemicals in their pools as possible, ozone gas is a great alternative. When ozone gas comes into contact with pathogens or algae in the pool water, it kills these substances on contact. To use ozone gas in your pool, you will need to install a device that is called an ozonator.
For answers to your questions about keeping your swimming pool clean, get in touch with TMC Custom Pools and Renovations. For over 15 years, we have provided our customers with top rated pool maintenance services. To hear more about our pool services call our Tucson location a call at (520) 797-0168, or call our Phoenix location at (480) 558-7665, or our Casa Grande location at (520) 723-7946.