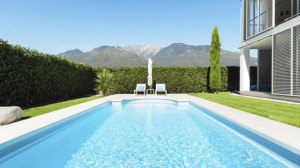 The shape and design of your swimming pool is only limited by your imagination. Modern swimming pool design allows you to create a customized feature that complements your property to add appeal and functionality that blends seamlessly into your lifestyle. Designing the perfect pool means taking into account several factors, including the existing features in your yard, the look and style of your home, and your personal preferences for pool use.  
Pool Shape
In the past, swimming pools were typically square, rectangular, or round basins. While these shapes remain popular, they are no longer the only options available when designing the ideal pool for your home. A square or rectangular pool is an excellent choice if you plan to use it for swimming laps, diving, or water sports. Alternatively, round, kidney-shaped, or even freeform pools are also popular modern pool designs, allowing you to increase the square footage of your pool, customize the shape to suit your yard and your tastes, and enjoy a more organic and natural backyard feature.
Pool Design
Shape is only one aspect of your overall pool design. Other design elements include basin depth, landscaping, decking style, and water features. All of these elements come together to create a personalized pool that you will enjoy using every day. Depth is tied directly into your intended use of the pool—if you plan to use your pool for diving or swimming games, it should be deeper than if you want to use it for lap swimming or entertainment only. Water features, decking, and landscaping should be chosen to meld with the style of your home and your property, tying your pool into the larger aesthetic whole for a seamless, high-end look.
TMC Custom Pools and Renovations has over 25 years of experience in serving our customers, providing services that include pool installation, renovation, and maintenance in Tucson, Phoenix, and Casa Grande. Please stop by our website or give us a call @1.866.658.7665 for more information about how we can help you build a pool you'll love.