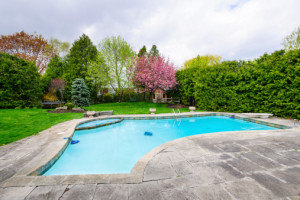 When you embark on a new pool installation in your backyard, you will have many factors to consider. By carefully selecting your pool materials, water elements, and other features, you will be able to create a luxurious pool that provides fun and relaxation for your family and friends. As you work with a pool designer in Tucson, you will start the installation project by selecting a shape for your new swimming pool. Let's take a look at some of the most essential pool shapes that you may want to consider for your property.
Rectangle
A rectangle is a versatile pool shape that can pair well with nearly every property and home design. When you install a rectangular pool in your yard, you will create a classic pool that is suited for swimming laps, playing water sports, and simply relaxing. Your pool designer will help you find the best site for your new rectangular swimming pool.
Freeform
When you are seeking a unique pool shape that can be designed to fit nearly any backyard space, you may want to consider a freeform pool. When a freeform pool is designed, it is provided with contours and other features that blend seamlessly with landscaping and hardscaping elements in the yard. An experienced pool professional will be able to design a beautiful freeform pool for your home.
L-Shaped
For those homeowners who seek additional pool deck space or outdoor kitchens, an L-shaped pool may be the right shape. An L-shaped pool will provide a natural pool deck area that can be used for a variety of activities. In addition, the L-shaped pool can be designed with shallow and deep areas for new swimmers. When you create an L-shaped pool, you can use organic, freeform or rectangular shapes.
To get started on designing a new pool for your property, be sure to get in touch with TMC Custom Pools. Our team of experienced pool designers will be thrilled to help you with every aspect of your new pool installation. With our help, you can transform your backyard into a beautiful, spa-like oasis.