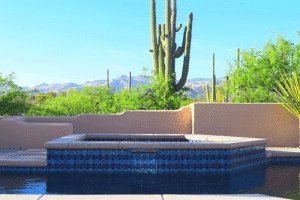 If you are seeking a refreshing way to beat the Tucson heat, you may want to consider a new pool installation for your backyard. From afternoon swim sessions to pool parties with your family and friends, you are sure to find many uses for your new pool. In order to create a pool that matches the style and layout of your home and property, you may want to work with custom pool builders. Read on for a closer look at the benefits of choosing a custom pool.
Add Custom Features
One of the top benefits of choosing a custom pool installation is that you will be able to choose from a variety of fully customizable features for your pool area. Some popular features include pool bars, fountains, waterfalls, and unique lighting elements. When you work with a custom pool contractor, you will get a better idea of which pool features will be best for your project.
Choose Luxurious Materials
Creating a custom pool design will allow you to pick out all of the materials that are used to create your brand new pool. Your pool materials can feature different shapes, colors, patterns, and textures. To create a show stopping effect with your pool design, you may want to plan out a custom tile mosaic for the bottom of your pool.
Create Your Own Shape
Gunite pool technology allows pool contractors to create pools in a variety of different shapes. From a traditional rectangular pool to a completely free form design, you can work with your pool builders to design a custom shape that fits perfectly in with your property and landscaping.
If you have questions about the advantages of building a custom pool in your backyard, get in touch with TMC Custom Pools. Our pool builders will be thrilled to help you create the fully custom pool that you have always wanted. Call our Tucson location at (520) 797-0168, our Phoenix location at (480) 558-7665, or our Casa Grande location at (520) 720-7946 to set up a consultation for your pool project today.