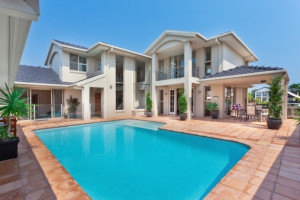 The layout of your pool affects both its aesthetics and its functionality. Today, pools are no longer limited to square, rectangular, or circular basins—homeowners can opt for any layout they desire to completely customize the visual effect of their pool, as well as its comfort and size. Keep reading for a few helpful tips that can provide guidance when you're choosing the layout of your Tucson pool.
Rectangular Pools
Rectangular pools are a popular choice; this simple layout is extremely versatile, allowing you to create a wide or narrow basin to fit your space and your preferences. This type of pool is ideal for pool walking and swimming laps, while also allowing for a variety of depths between the two ends. Rectangular pools are often formal or contemporary in nature, giving your backyard a more planned and finished look. Variations on this pool layout design include L-shaped pools and "lazy" L-shaped pools.
Oval Pools
Oval or circular pools have a softer, more natural look than rectangular pools, but still create an appealing and luxurious feel in your outdoor living space. These pools can be designed with a single depth or several depth options to accommodate your preferences, and are ideal environments for both relaxation and family play. Kidney-shaped pools are a variation on the oval pool layout; this type of design is often used to accommodate landscaping or the installation of a spa.
Freeform Pools
Freeform pools imbue your yard with a sense of organic beauty. A freeform pool can be any shape or size you desire, and these designs often include elements such as waterfalls and fountains. Freeform pools will fit any type of landscape and accommodate the space in a yard of any size or shape, allowing complete freedom during the pool design phase.
At TMC Custom Pools and Renovations, we specialize in new pools and pool renovations in Tucson. You can find out more about designing—or redesigning—your perfect backyard pool when you visit us online or contact us by phone to speak with an experienced pool contractor.